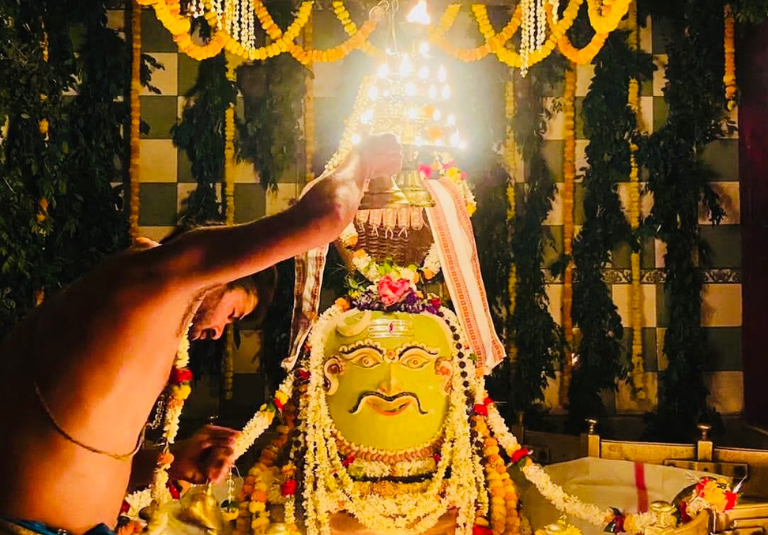 ॐ ऐं ह्रीं शिव गौरीमय ह्रीं ऐं ऊं।
Temple Contact Details
Temple Name: Shri Gauri Kedareswar Mandir
Temple Phone Number: 073760 83135
Temple Address: Kedar ghat, Mansarovar Ghat, Varanasi, Uttar Pradesh 221001
Temple Timing: 06 AM – 10 PM
Legend associated with the Temple:
The meaning of Kedar refers to the place where the crop of liberty grows and in Varanasi kedareshwar temple is where people got freedom from their sins. The importance of the Varanasi kedareshwar temple is equivalent to the Jyotirling Kedar in the Himalayas. According to the Kashu Maharma lord, kedareshwar performed his fifteen arts (kalas) in Kashi and the last one means sixteen he performed in Himalayas Kedar. When king Mandhata had organized bhojan for Sanyasis on Makar Sankranti, at last after feeding all the Sanyasis when the king himself sat for bhojan a weak and old sanyasi walked in but unfortunately no food was left till then. King Mandhata did not want to disappoint the Sanyasi hence he divided his bhojan in two halves to share with the Sanyasi. But in actuality the Sanyasi was lord Shiva himself and he appeared from the bhojan along with Parvati, Ganesh and Kartikey to give darshans to King Mandhata. The King asked Shiva to always give the darshan to him in this form and the equally divided bhojan got consecrated into a Swayambhu Shivling half of which is Gauri and the other half Kedar.
Significance of the Gauri Kedareshwar Temple
The temple has massive significance and it is written in the Shiv Mahapuran that one who enters into the Garba Griha of this temple never has to enter into Garba again i.e from darshan itself the devotee obtains liberation from the cycle of birth and death.
According Skand Puran darshans of Jyotirlinga Kedar in Himalayas 7 times and darshans of Gauri Kedar in Kashi one time are both equal and there is no discrimination made in Kashi between the Kedar Shiv Linga and Vishwanath Linga.
As the swayambhu shiv linga is made on Anna in this temple, the ritual of Annadan holds immense signficance amongst the devotees.
As the deity in the temple naturally exists in Ardhanarishwar swaroop i.e the presence of Shiv and Shakti at one place, the temple becomes highly significant for Shiv and Devi bhakti.
Location of Gauri Kedareshwar Mandir
The temple is located on the banks of Kedar Ghat, and is the only temple in the world where the Ganges river is visible from the Garba Griha of the temple.
Timings and auspicious days to visit the Gauri Kedareshwar Temple :
The temple opens at 4am in the morning for the devotees and remains open till 9pm in the night for the 7 days in week.
The festival of Mahashivratri, Nag Panchami, Makar Sankranti, Akshay Tritiya and Shravan Mass hold immense significance in the Temple.
Related Pujas:
Related Service:
[/vc_column][/vc_row]