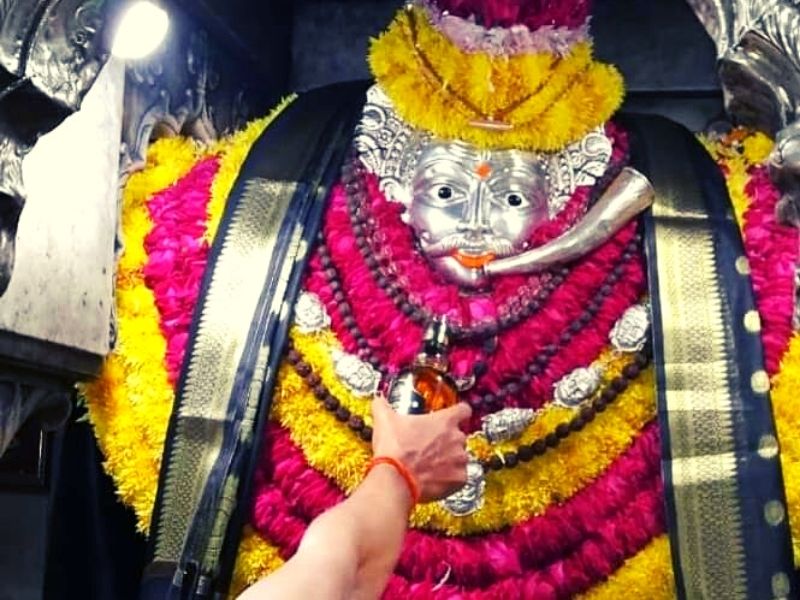 Kaal Bhairav Khappar Seva
A legend associated with the sewa :
When Lord Kaal Bhairav arrived in the 'Vaikuntha Dham' bhagwan Vishnu did his elaborate stuti and paid his respect by doing 'Dandvat Pranam' subsequently Mahalaxmi Devi Offered Daxina in the Khappar of Kaal Bhairav,
Pooja Vidhi;
In this pooja the silver vessel i.e 'Khappar' is filled with the things that are dear to Lord Kaal Bhairav like Madira ( wine ) and is kept alongside the bhog. Many devotees believe that Kaal Bhairav sips all the madira during the course of this Sewa making it one of the highest sewas to the lord.
Benefits of Doing Madira Seva;
A Devotee who does regular Khappar Seva obtains the blessings of not only Baba Kaal Bhairav but also Maa Laxami.
This sewa also symbolizes thanksgiving to the lord.
People addicted to alcohol and narcotic substances also obtain peace of mind and strength by doing regular Khappar Sewa.
OTHER RELATED PUJA