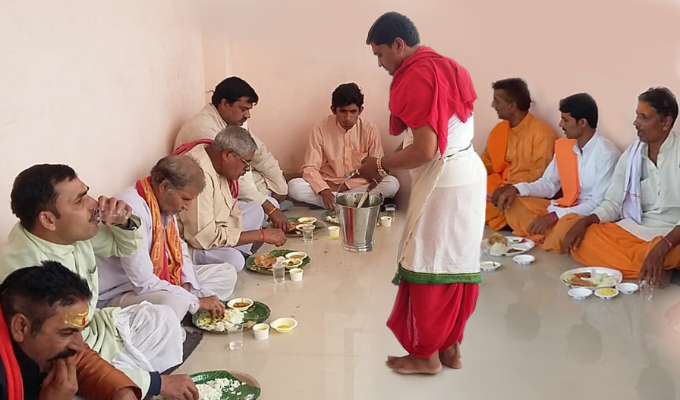 Annadan Donation
Annadan Donation is a free food program that feeds more than thousands of people. Donate and support free Annadan Donation program by Kashi Archan Foundation.
 Kashi Annadan Donation
दत्वाल्पमपि देवेशि न्यायोपार्जितंधनम्।
अविमुक्ते ममक्षेत्रे न दरिद्रोभवेत्क्वचित्।।
The above Shloka is taken from Skand Puran where Lord Shiva is saying that anyone who out of there hard earn money will do Annadaan in Kashi will ensure that neither he/she or their upcoming generations will ever have to face poverty during their lifetime.
Maa Annapurna has blessed the city of Kashi by giving a symbolic bhiksha to lord Vishwanath that 'One can wake up hungry in Kashi, but not sleep hungry.
Annadan is essentially a lifeline to millions who find it hard to meet their ends meet for two times meals a day. We experience Annadan on a daily basis from our mothers who bless us with food on our table.
Annadan gives you an opportunity to become a source of motherhood for many people. Karna in Mahabharat was called 'Dan Veer' only when he completed the Annadan for poors and Sadhus on earth, hence it is also called as Mahadaan.
By doing Annadan on Punya tithis for our ancestors we give satisfaction to their immortal souls. Annadan is done on important days like birthdays, marriage anniversaries, and festive occasions to bless the donor and he never gets to face poverty in his life.
Kashi Archan Annakshetra wing is doing Annadan on a daily basis by feeding 1000 homeless children and daily wage earners with the Mid Day Meal program in an open 'Community Kitchen' where people from all caste, creeds,s, and religions are fed with nutritious food without any discrimination.
This novel initiative of the Kashi Archan Foundation is a one-step toward keeping up the blessings of Maa Annapurna to this holy city of Kashi, and we pledge that anyone who walks in our community kitchen will not go hungry to sleep.