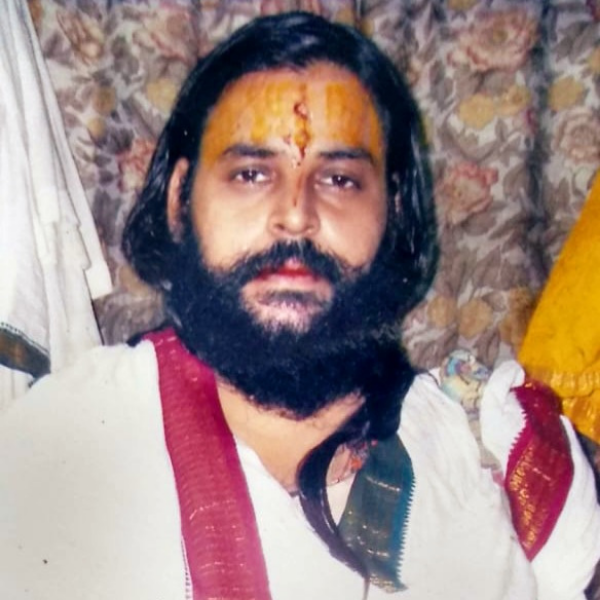 As one of the Sapta Rishis in Shri Kashi Vishwanath Temple, Ramanand Ji is at the forefront of deva
श्री काशी विश्वनाथ सप्त ऋषि आरती अर्चक
Phone Number :
+91-8604350635
Email :
Ramanand@kashiarchan.com
Address Info :
D-13/20, Bandhari Gali, Harha, Varanasi, Uttar Pradesh 221001
As one of the Sapta Rishis in Shri Kashi Vishwanath Temple, Ramanand Ji is at the forefront of deva seva to the lord of the entire universe i.e Shri Kashi Vishwanath. Ramanand Ji has performed major Yagna Anusthans across all the Southern Indian states and has a large following among the Shiv Bhaktas. Closely associated with Isha Yoga Foundation which is run by Sadhguru, Ramanand Ji also offered Sapta Rishi Aarti on the auspicious occasion of Agyasta Jayanti in the Isha Yoga Centre at Coimbatore.
From the age of 8 years, he is in the seva of Lord Vishwanath and believes that the very purpose of his birth is seva to Kashi Vishveshwar. Kashi Archan Foundation is delighted to receive the grace and blessings of his holiness Shri Ramanand Ji and his message for all of us is "The youth of today should strive to research and find out the established Vedic way of life which has been practiced and perfected by our ancestors, and our continuous strive should be to search for "Truth" and not "Comfort".